ResearchGate, the professional network for researchers, and Pensoft, an independent open access academic publisher known worldwide for its cutting-edge publishing tools and workflows, today announced a new partnership that will see a set of Pensoft's open access journals increase their reach and visibility through ResearchGate – increasing access and engagement with its 25 million researcher members.
Pensoft is a fully open access publisher, providing high-quality end-to-end services to its own and third-party scientific journals via its in-house developed scholarly publishing platform ARPHA.
As part of this new partnership, 20 journals published by Pensoft – including the publisher's flagship titles ZooKeys, PhytoKeys, MycoKeys, Biodiversity Data Journal and Research Ideas and Outcomes (RIO Journal) amongst others – will now have their content automatically added to ResearchGate upon publication to benefit from enhanced visibility and discoverability through ResearchGate's innovative Journal Home offering. These journals will all have dedicated profiles and be prominently represented on all associated article pages on ResearchGate, as well as all other relevant touch points throughout the network.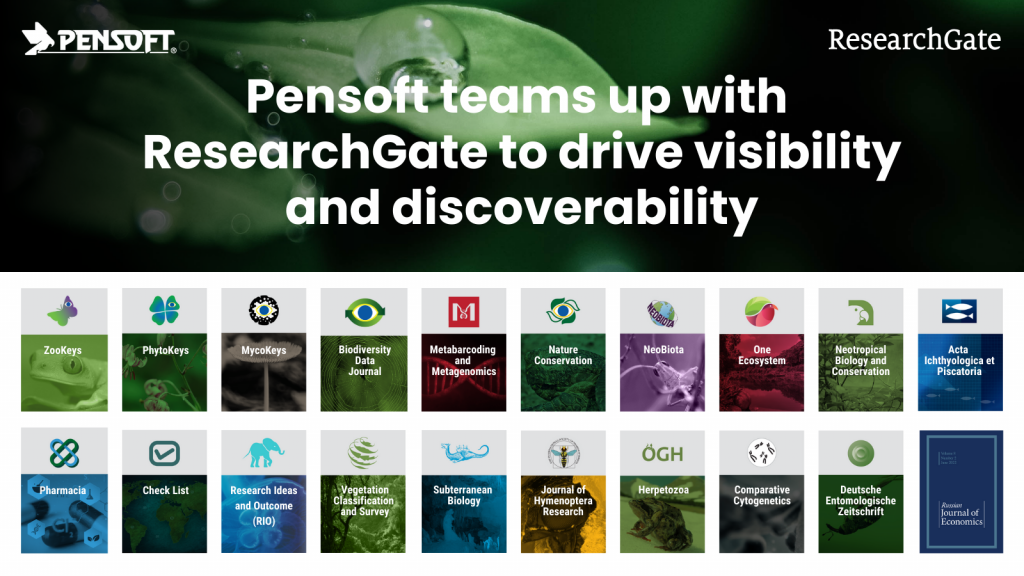 Journal Home provides a unique opportunity for Pensoft to connect its authors with their readers. The new journal profiles on ResearchGate will provide a central location for each journal, enabling researchers to learn more, discover new article content, and understand how, through their network, they are connected to the journal's community of authors and editors. Authors of these journals additionally benefit from having their articles automatically added to their ResearchGate profile page, giving them access to metrics, including who is reading and citing their research. These rich insights will also enable Pensoft to build a deeper understanding of the communities engaging with its journals.
"Pensoft is delighted to be working with ResearchGate to provide an even greater service to our authors and readers. ResearchGate offers an innovative way for us to grow the reach and visibility of our content, while also giving us a way to better understand and engage our author and reader audiences,"

said Prof Lyubomir Penev, CEO and founder of Pensoft.
"We couldn't be happier to see Pensoft embark on this new partnership with ResearchGate. Journal Home will not only enable Pensoft authors to build visibility for their work, but provide them and Pensoft with greater insights about the communities engaging with that research. I look forward to seeing this new collaboration develop."

said Sören Hofmayer, co-founder and Chief Strategy Officer at ResearchGate.
###
About ResearchGate:
ResearchGate is the professional network for researchers. Over 25 million researchers use researchgate.net to share and discover research, build their networks, and advance their careers. Based in Berlin, ResearchGate was founded in 2008. Its mission is to connect the world of science and make research open to all.